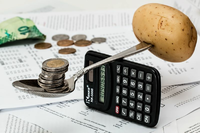 *Español
¡Los invitamos a ser parte de una conversación sobre "Presupuesto Familiar" el viernes, 24 de Enero a las 10:00 AM! El dinero es un tema que es sumamente importante discutir en una familia porque define la vida que tendrán todos. Las presiones para saber cómo manejar bien el dinero para pagar todo lo que se necesita y también ahorrar para el futuro es pesada. Por eso LETI estará provenido una plática de dos horas para saber las formas más fáciles de poder manejar su dinero.
La sesión es parte del programa de El Bienestar Total de La Mujer Latina y será presentado por Thom Laing.Tom tiene varios años de experiencia manejando dinero porque es un contador por profesión.
Toda la información que damos es para apoyar el desarrollo profesional y personal de la mujer Latina y hombre Latino; y todo es completamente gratuito. También ofrecemos cuidado de niños gratis y unos aperitivos para tomarse con un cafecito para despertar. No necesita registrarse antes de venir al programa y no necesita traer ningún papel.
La dirección es 6605 202nd Street SW Suite #300 Lynnwood, WA 98036.
¡Si tiene alguna pregunta por favor contáctenos!
*English
We invite you to be part of a "Family Budget" conversation on Friday, January 24 at 10:00 AM! Money is an issue that is extremely important to discuss in a family because it defines the life that everyone will have. The pressures to know how to handle money well to pay for everything that is needed and also save for the future is difficult. That is why LETI will be given a two-hour talk to know the easiest ways to manage your money.
The session is part of the Latin Women's Total Wellness program and will be presented by Thom Laing who has years of experience.
All the information we give is to support the professional and personal development of Latina women and Latino men; And everything is completely free. We also offer free childcare and snacks to drink with a coffee to wake up. You do not need to register before coming to the program and you do not need to bring any paper.
The address is 6605 202nd Street SW Suite # 300 Lynnwood, WA 98036.
If you have any questions, please contact us!