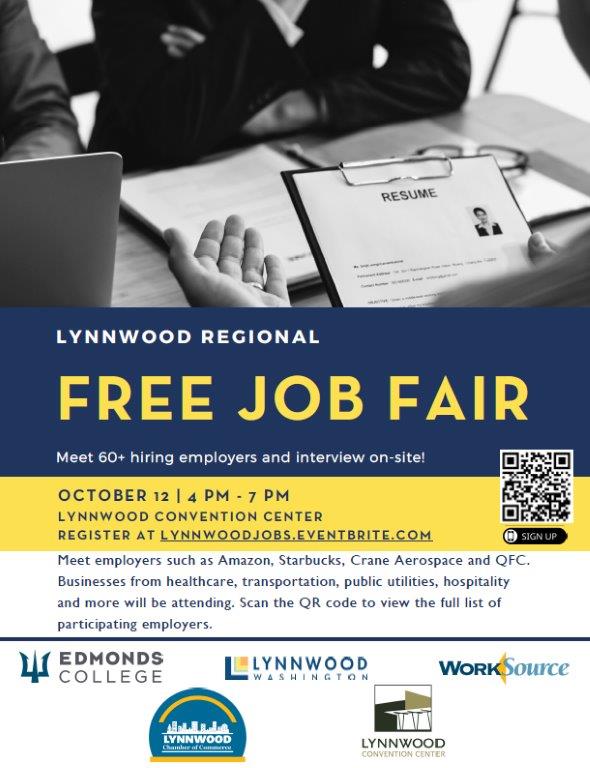 La ciudad de Lynnwood, la Cámara de Comercio de Lynnwood, Edmonds College y WorkSource se han asociado para reunir a los mejores empleadores en Lynnwood y el condado de Snohomish. ¡Reúnase con posibles empleadores y tenga entrevistas cara a cara en el sitio!
Habrá recursos gratuitos disponibles, como currículum vitae y asistencia para la búsqueda de carrera. Este evento es gratuito y está abierto a cualquier persona que busque empleo en Lynnwood, el condado de Snohomish y la región metropolitana del norte de Seattle.
Más de 80 empleadores de una variedad de industrias, incluidas la aeroespacial, la salud aliada, la aplicación de la ley, el transporte, los servicios públicos, la hospitalidad, el comercio minorista y más. Una lista completa de los empleadores participantes se agregará en una fecha posterior.
La Feria Regional de Empleo de Lynnwood está patrocinada por el Centro de Convenciones de Lynnwood.
_________________________________________________________________
The City of Lynnwood, Lynnwood Chamber of Commerce, Edmonds College, and WorkSource have partnered to bring together the top employers in Lynnwood and Snohomish County. Meet with prospective employers and have face-to-face interviews on-site!
Free resources will be available such as resume and career search assistance. This event is free and open to any jobseeker in Lynnwood, Snohomish County, and the greater North Seattle region.
80+ employers from a variety of industries including aerospace, allied health, law enforcement, transportation, public utilities, hospitality, retail, and more. A full list of participating employers will be added at a later date.
The Lynnwood Regional Job Fair is sponsored by the Lynnwood Convention Center.
_________________________________________________________________
Empleadores Participantes/Participating Employers:
-1st Security Bank
-ACE Parking
-Alderwood Water & Wastewater District
-Allied Universal
-Amazon
-AAmerican Water Damage Restoration
-Autism Learning Partners
-Aviation Technical Services
-Baekjeong Korean BBQ
-Brinderson
-Cedar Creek Memory Care
-CENTURY 21 Real Estate Center
-Chateau Retirement Communities
-CHC of Snohomish County
-City of Everett
-City of Lynnwood
-Coastal Community Bank
-Crane Aerospace and Electronics
-DaVita
-Edmonds College
-Eurofins
-Everett Housing Authority
-Fast Water Heater
-FedEx
-Frito-Lay North America
-Genesis
-H&R Block
-Haggen
-Harry Lundeberg School of Seamanship
-HomeStreet Bank
-Jamco America
-Jovie - Formally College Nannies, Sitters + Tutors
-King County
-King County Department of Adult and Juvenile Detention
-King County FMD
-Korean Women's Association
-Lynnwood Convention Center
-Madden
-McMenamins, Inc.
-Northwest ESD 189
-Hilton Garden Inn Seattle/Bothell
-OSW Equipment & Repair LLC
-Phoenix Processor LP
-Precision Door Service
-Premier Golf
-Progressive
-Puget Sound Kidney Centers
-Qdoba Mexican Eats
-Royell Manufacturing, INC
-Safeway
-Sentry Credit, Inc
-Snohomish County 911
-Snohomish County PUD
-Sound Credit Union
-Sunrise Services, Inc.
-Terminix
-TERRA Staffing Group
-United States Postal Service
-University of Washington
-Walgreens
-Washington Energy/ Bob's Heating and Air Conditioning
-Washington State Department of Corrections
-Washington State Patrol
-Western Washington Sheet Metal JATC
-WIS International Inventory Services
-WMST
-WorkSource