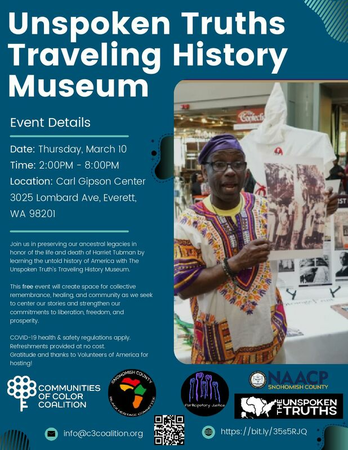 Preserve ancestral legacies with C3 (Communities of Color Coalition) in honor of the life and death of Harriet Tubman by learning the untold history of America with The Unspoken Truth's Traveling History Museum.
This free event will create space for collective remembrance, healing, and community as they seek to center their stories and strengthen their commitments to liberation, freedom, and prosperity.
COVID-19 health & safety regulations apply. Refreshments provided at no cost. Gratitude and thanks to Volunteers of America for
hosting!
Date: Thursday, March 10
Time: 2:00PM - 8:00PM
Location: Carl Gipson Center
3025 Lombard Ave, Everett, WA 98201