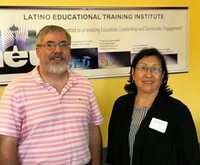 The Carnegie Foundation and Swearer Center have recognized the University of Washington Bothell with its community engagement certification for its collaborations with outside partners that lead to the mutually beneficial exchange of knowledge and resources.
UW Bothell — along with UW Tacoma and UW's Seattle campus — was among 119 universities and colleges to receive the Carnegie Community Engagement Classification Friday from the Swearer Center for Public Engagement at Brown University, which administers the designation.
Latino Educational Training Institute (LETI) is a Lynnwood nonprofit that serves the Latino community in south Snohomish County. It has long partnered with students in nursing and social sciences. Founder Rosario Reyes said the UW Bothell relationship is invaluable for bringing new perspectives and professional-level support. LETI reciprocates by showing young professionals how a small community organization survives. 
The Carnegie Community Engagement Classification is awarded following a process of self-study by each institution, which is then assessed by a national review committee led by the Swearer Center for Public Engagement at Brown University, the administrative and research home for the Carnegie Community Engagement Classification. The classification has been the leading framework for institutional assessment and recognition of community engagement in U.S. higher education for the past 14 years
The UW Bothell partnership adds to LETI's credibility, said Tom Laing, associate director. 
"It raises the community's perception of LETI in general, which is helpful for fundraising, helpful for partnerships. It helps people take us seriously," Laing said.