Join us! • ¡Únese con nosotros!
To become a member of the site, please click Join at the top of any page. A simple form will ask for a username and email address, which will be confidential and will be used only by LETI. By joining you will be able to post personal updates in your personal profile, participate in community conversations, and list your business or organization in our community directory. Thanks for your interest!
ESPAÑOL
Updates • Actualidades
These comments are from members' individual profiles. Estos comentarios vienen de los perfiles individuos de los miembros.

Marisol Bejarano
19-Oct-2021
Currently working on LETI projects for the Fall and planning for next year!
Irina Korchemnaya
19-Oct-2021

During 2021, LETI has arranged vaccinations for over 1,400 persons. En 2021, LETI ha arreglado vacunas para mas de 1.400 personas.
Irina Korchemnaya
30-Jun-2021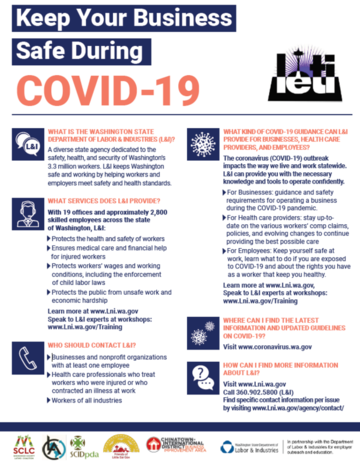 "Help Me Grow, WA" is conducting a survey on community needs in the state. You can help. Click the following link.
thevidaagency.qualtrics.com

Sigue el enlace (LINK) para recibir transporte gratuito a su centro de vacunación. Follow the link for free transportation to your vaccination center.
www.chwcoalition.org
Irina Korchemnaya
06-May-2021

Siga el siguiente LINK para información sobre fondos Asistencia financiera de emergencia debido al Coronavirus por y para inmigrantes.
www.immigrantreliefwa.org

Hay que pensar antes de salir. Tu salud está en riesgo. (Gracias a Glenda para la idea.)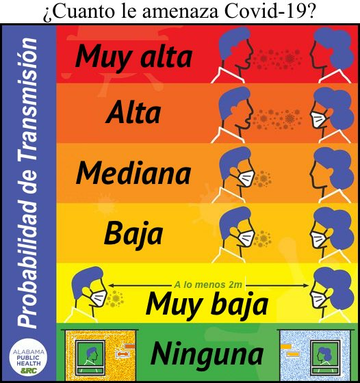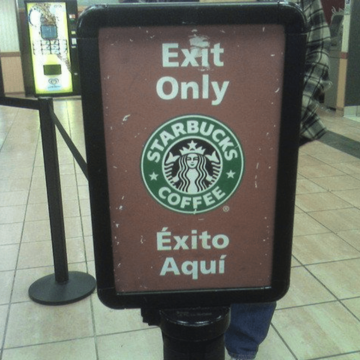 We are pleased to announce that former LLI student and volunteer Arlet Astorga has joined the LETI team in a staff capacity and will be managing administrative affairs.

We welcome to the LETI team Irina Korchemnaya, who will be helping us with communications and public relations.

Job Search Feature
30-Jun-2020
Job Opportunity: COVID Disease Intervention Specialist - Case and Contact Investigators
www.governmentjobs.com

The LETI vocational school appears to be off to a good start in its first trimester practical accounting course.

Judging by the orientation meeting, we have another talented group of students in the Latino leadership initiative for 2020. We have also added a special website for that program.
lli.letiwa.org

Jueces de inmigración indican que millones de archivos son desaparecidos, quizás destruidos.
www.bloomberg.com

Eight-year-old Zury Tlapanco Reyes, a fourth grader from Altamira, Tamaulipas, has been declared Grand Champion of the 2019 International Mental Arithmetic Competition, reports Forbes.
www.wearelatinlive.com
Monica Garcia
02-Jul-2019
Please like us on Facebook at "Latino Educational Training Institute - LETI" to keep up with information from our vocational school!

Our new vocational school has been approved by Washington State. The goal is to enroll our first students in October. Watch this space!

Consumir cannabis mientras estar embarazada o amamantando puede transmitir el THC (un químico que altera el estado de las personas) a su bebé.
tinyurl.com

We had excellent presentations from LLI students this past weekend. All the groups appeared to have met their objectives and created concise, effective presentations.

Check out this presentation on inclusive policies for disabled students 4/25/19 at Edmonds CC.
letiwa.org
Loretta Haley
27-Feb-2019
We had a great time at 'Bienestar' with Athalie and Angela.
Meeting this week with Loretta for news management training.
Loretta Haley
18-Jan-2019
The New Bienestar series starts February 6th. Let your friends and family know!
Loretta Haley
16-Dec-2018
We are working on the workshops that will be presented for Bienestar next year! Anybody who plans on attending, please feel free to give preferences of the workshops you wish to attend.
Loretta Haley
11-Dec-2018
LLI Kickoff is coming soon. I'm very excited.
Loretta Haley
08-Dec-2018
LLI is meeting at Edmonds Community College.
El refugio de clima frío Snohomish está ABIERTA esta noche (17 de diciembre) a las 8 pm.; las puertas se cierran a las 10 pm. The Snohomish Cold Weather Shelter will be OPEN tonight (November 17) from 8 PM; doors close at 10 PM.
LETI welcomes its new intern Loretta Haley, who will be assisting with the website and related communications!
Members may post a comment.